STUCK ON CLAY AND LOVING IT
by Wendy Cevola
Year One: The story that was told by my mother was that I walked by six months of age. Another part to the story was that I had chronic constipation and passed little rabbit pellets that fell from my diaper to the floor. Mother said that if she didn't grab them up fast I collected them and pressed them together as a fun project. At least I never tried to eat them.
So one day when my Aunt observed this she suggested that mom buy me some clay. My mother said "but she's only a baby!" Still she did just that and I seemed content to leave the pellets where they fell and play with the more pleasant and colorful clay.
Soon after changing over my Aunt told my mother to look at what I was making. My mom who hadn't noticed found that I was actually creating birds and snakes and other animals. Her favorite magazine was National Geographic and she often sat with me showing photos and telling stories to go with them. I must have been an apt pupil.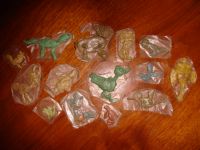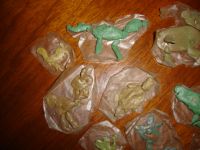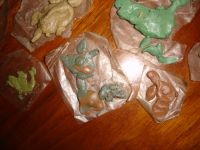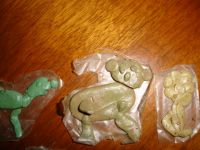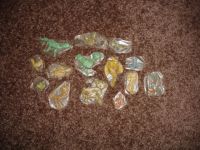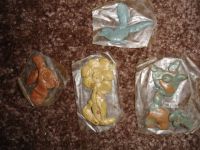 So mom stared putting down wax paper so that she could save what I was making in my first year of life. I began speaking words soon after and could put names with my creations. For years we had a huge box of them in mom's closet and it was fun to pull them out and look at my tiny finger prints in the clay. Due to a hungry mouse only a few have survived and some of those have nibbled edges.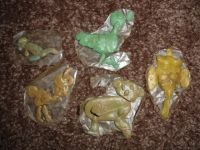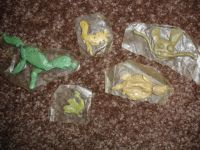 Year Nine: I am now in the forth grade and it's time for a school art project. Play dough is now the rage and my sister Gloria has volunteered to help me think up things to make to display at school. My sister is twelve years older and very talented. The first thing she did was to teach me how to make a rose. It has survived better than any of the other items. I was given an A and those clay items went into another box to save.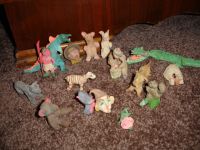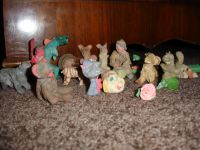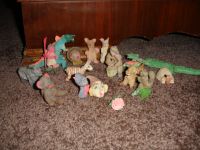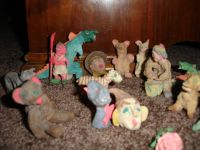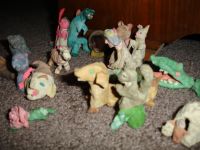 Year Eleven: I'm now in the sixth grade and known to my classmates as the artist. I draw I paint and I have an art instructor who is showing signs of dementia. She would grab my artwork and if it wasn't meeting her idea of what I was capable she would scream at me and tear it up. It was hard for both of us and she wasn't able to finish out the school year. I learned a lot from her and from our new teacher.
Year Thirteen: Junior High art classes can be truly amazing. I became the art club president and worked to put out a cover for the school magazine. It was my first exposure to block printing. At the end of the year I was surprised with the honor of being voted best girl artist by my classmates. I was given five dollars as well.
Year Fourteen: Boys, need I say more? I did start oil painting this year and even attempted a portrait of my best friend Olivia. My nephew Kevin was now seven and attempted to fine tune both the portrait and my bedroom furniture.
Year Fifteen: My sister has become a well known potter in Oregon. Her three children are now working in clay making animals to sell along side her creations. Her son becomes an oxygen acetylene welder and I try this out as well.
Year Eighteen: I'm now a pre-med major at California State University Sacramento. I'm living at home with my mother Jewell and she tells me to take a broad range of classes and to enjoy school and to not hurry.
College Years: With my mother's blessing I would go from my physics class to my potters' wheel class. I would go from my chemistry class to my drawing class. So it went for the six years I spent in college. Due to an aversion to differential equations I did not apply to medical school. Instead I became a Nuclear Medicine Technologist.
Summers: While a college student I spent some summers as a tour guide within Yellowstone National Park. I took a box of oil paints and supplies so that in my off time I could paint the splendor of the park. I have to be constantly involved with art projects or I'm not satisfied.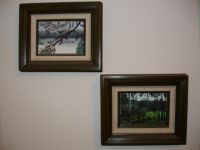 After College: I have used my talents for hospital projects, in fact I did a painting of the CEO of Sutter Hospital with his head on the body of a turkey for an award program. He loved it and hung it in his office.
I have entered local art shows and have even had a displayed clay mask of a New Zealand Maori warrior stolen by an art thief. Should I feel complimented that someone risked jail for my art?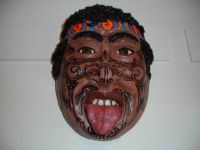 I made 37 life size clay masks of people of different ethnic backgrounds to apply for an airport project. My idea was passengers past present and future. They choose huge metal birds instead so now I will be selling the masks through my web page. It took me years to make them, we will see how long before they are all gone to new homes.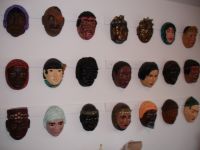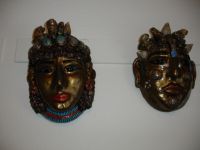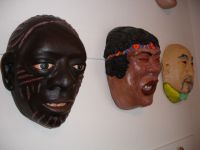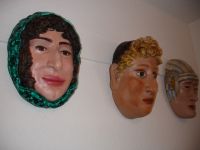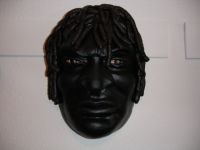 My husband has been a long-time tiki hunter. We have traveled to Hawaii and around the states looking for tikis made in a variety of different mediums. His collection is very extensive. It has become difficult to find anything new to add to his collection, so he asked me to make tiki items for him in clay.
I am now fully into making tiki bowls and vases that we design. Some are tributes to items made years ago but now I've put them into a form such as a bowl that never existed, or as a close copy such as with the severed heads.
I currently work in both clay and ceramics. Posters of my art past present and future are also available.
I plan to be a happy artist who is content and busy until I am too old to pick up a paint brush. Take the journey with me and let's have fun.
Sincerely, Wendy Cevola tiki artist